When buying a laptop , for example , it may comes woth an OEM activative key for its preinstalled operating system , such as Windows Vista . As for me the preinstalled Vista is too much trashy , I mean many softwares from HP mean less to me and they usually slow down my computer !
Well , it's not hard to download a clean Windows Vista Installation DVD image from the Internet . But the OEM key can not be used on this edition but only the OEM Image , which may bother you a lot.

Thanks to the ABR program , We have the solution now !
[ad#PostRight]
ABR is a tool that can backup and restore Windows Vista activation for systems that are pre-installed from the factory by an OEM, allowing you to reinstall the system without having to call Microsoft. It saves the activation to a file and allows you to restore it once you've done a clean install. ABR works with Vista SP1, and on both 32-bit and 64-bit versions of Vista.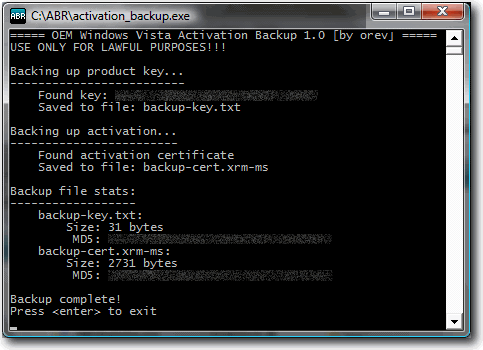 To use it follows these steps:
# 1. Download and unzip
# 2. Run "activation_backup.exe"
# 3. Save the backup files somewhere safe
# 4. Reinstall Vista
# 5. Restore activation by running "activation_restore.exe"
BR can only be used to install the same version of Vista you have the original OEM license for. For example, if your computer came pre-installed with Vista Home Premium, you can only reinstall with Home Premium. You can, however, switch between 32-bit and 64-bit. This tool only supports Vista and doesn't work on XP or Windows 7.
[ad#UnderPost]
And You can get it here : http://directedge.us/content/abr-activation-backup-and-restore