If you must know , the Windows 7 and Vista with X86 edition can not support 4GB RAM , while Windows 2003 and 2008 with X86 edition can !  In fact the difference lies in the a licensing matter .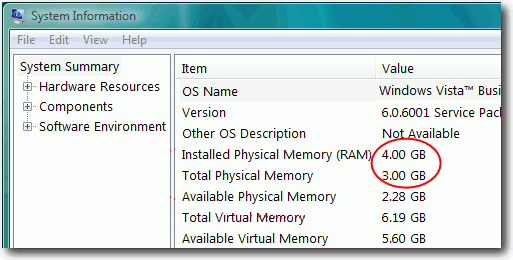 And Today , I'd like to tell you how to support it anyhow 😛
[ad#PostRight]
Thanks to Remko, he has provided us with a dUP2 file for the patch according to Geoff Chappell's article about Vista's Memory Limit. You'll need to compile the dUP2 file with diablo2oo2's Universal Patcher to get the executable file. If you don't know how to do it, I've compiled the dUP2 file provided by Remko and you can download from this link. Remko confirms that the patch works on both Windows Vista x86 Service Pack 1 and Service Pack 2. You can either drop this file in Windows\System32\ folder and run it to patch the ntoskrnl.exe file or run it from anywhere and browse for the file.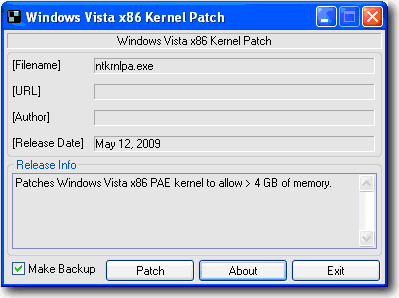 As for Windows 7, you will need a different patcher and this time it's from a Russian group called Staforce. Their group also came up with crack/activator for Windows 7. This patch works on Windows 7 (x86) Build 7600 RTM. The official link to download the 4GB memory limit patch is at this link but you'll need to register for an account to see the download link.  Other than patching Windows 7's kernel to support more than 4GB memory, the installer also comes with a watermark remover. You can press the N key from your keyboard to disable the watermark remover.